SINUS CARE
 Good sinus care can mean the difference between optimum health and chronic illness. At Fusion Specialty Pharmacy we specialize in helping you take care of both! Our sinus solutions include nasal therapies such as nasal medications, irrigation therapy, and atomized/nebulizer therapy to help delivery medication deep into you sinus cavities.
SINUS MEDICATION
Compounded medications can offer great benefits to patients. Unlike mass-produced medications, your compounded prescription for sinus medication is tailored exactly to your needs, and can target your precise symptoms. Acute and chronic sinus infections can include facial pain and pressure, nasal discharge, nasal congestion, loss of smell, and coughing. While some sinus infections are acute and may last for a few days, chronic sinusitis can last for weeks and generally occurs more than once a year for most patients.
COMMON CAUSES FOR SINUSITIS:
Acute (short term) Sinusitis, commonly experienced once a year.
Common Cold
Seasonal Allergies; Allergic rhinitis
Food Allergies
Bacteria or viruses spread from one person to another
Fungal exposure
Dry nasal/sinus passages; do to environment, medications or nutrition
Chronic (long term) Sinusitis, commonly experienced multiple times throughout the year
Structural abnormalities, e. deviated septum
Immune/auto-immune deficiencies
Cigar/cigarette smoke environment
Nasal/sinus polyps
Dry nasal/sinus passages; do to environment, medications or nutrition
WINTER IS THE DRIEST SEASON: Most of us think that summertime is the driest season because of high temps and longer days. We tend to decrease our outdoor activity, and stay indoors longer because the days are shorter. This usually causes us to drink less water, depriving the body of optimum hydration. Additionally, heating your homes and offices can dry out the air and sinuses considerably. This can result in susceptibility to sinus infections and other upper respiratory conditions.
WHY COMPOUNDING?
Many over-the-counter medications for sinus & allergy may contain ingredients that contribute to further dryness. Compounding a sinus medication can eliminate the drying ingredients and incorporate soothing ingredients. Fusion Specialty Pharmacy can customize sinus therapies to include antihistamines, antibiotics, anti-inflammatories, steroids, and antifungal medicines.
NASAL THERAPY
Fusion Specialty Pharmacy provides the latest in nasal therapy, whereby each administration can send medication directly in to the hard to reach upper sinus cavities, treating the infection directly at the site. Nasal therapy is widely used for seasonal allergies and sinus congestion.

IRRIGATION THERAPY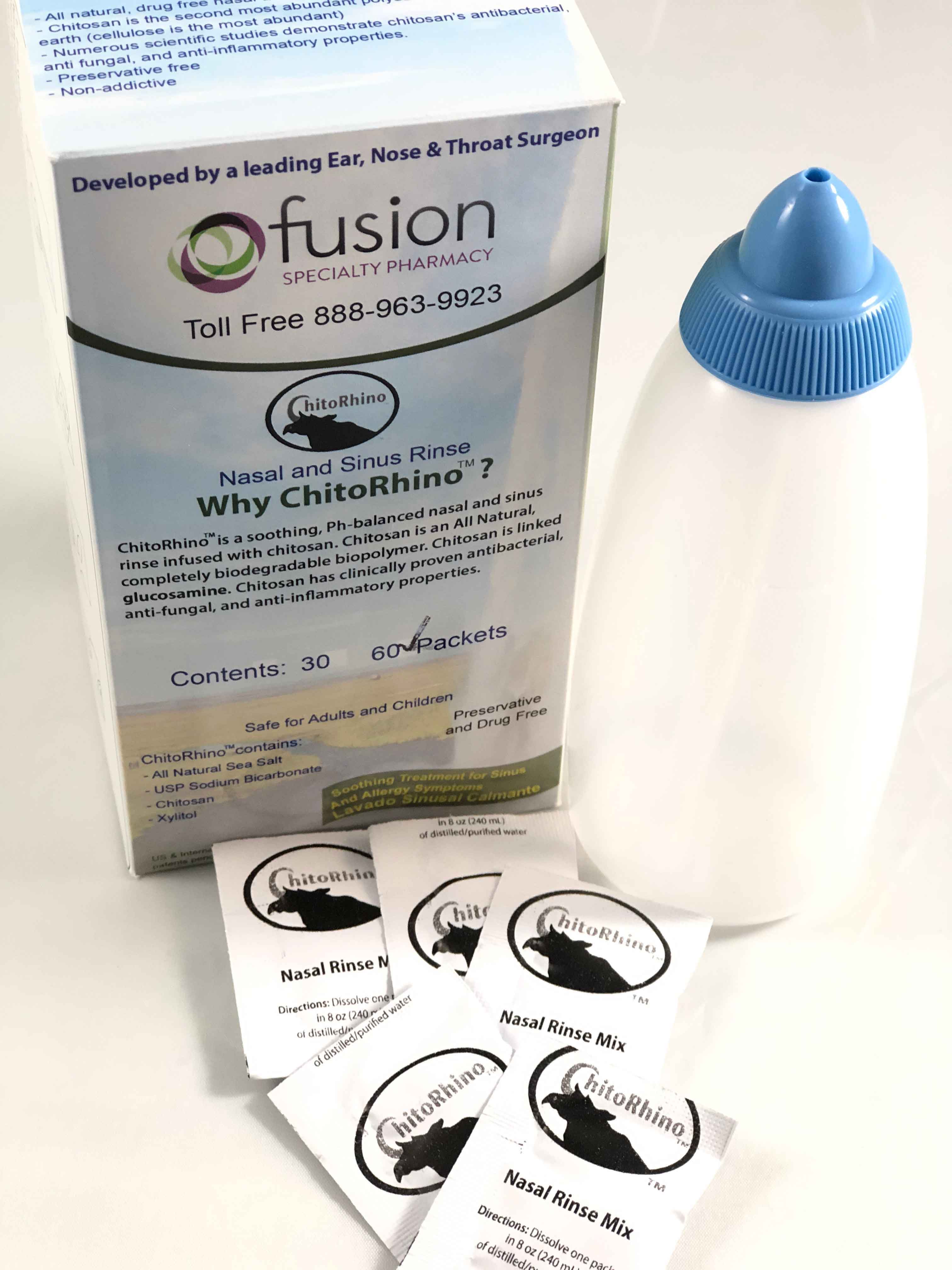 Medicated and non-medicated irrigation treatments are commonly recommended to flush the nasal cavities. For non-medicated therapy we recommend a saline flush found in Fusion Specialty Pharmacy's ChitoRhino™ Nasal and Sinus Rinse. ChitoRhino™ is a soothing, Ph-balanced rinse infused with chitosan. Chitosan is linked to glucosamine and has been clinically proven to be antibacterial, anti-fungal, and have anti-inflammatory properties. When used properly this rinse can help reduce sinus symptoms caused by allergies, pollution or chronic dry sinuses. Compounded sinus medication in the form of saline rinses are available for those with chronic rhinitis and sinusitis.
ATOMIZED/NEBULIZER THERAPY 
NasoNeb® Nebulizer can deliver multiple medications to the nasal and paranasal sinus cavities with a 1-2 minute treatment. This type of therapy differs from a saline therapy. The NasoNeb Nebulizer actively delivers a large-particle aerosol into the nasal and paranasal sinus cavities using a positive pressure airstream. NasoNeb® treatments are perfect for post-operative patients and others with crusting and infection, recurrent nasal polyps, patients who have failed or don't tolerate other therapy, chronic sinusitis or rhinitis and patients with smell disorders.
Click HERE to view our article, or download your copy below.
MORE ABOUT NEBULIZER THERAPY
The NasoNeb System is the fast, convenient solution for
a drug
delivery to the nasal and paranasal sinus cavities.
The NasoNeb Nasal Nebulizer is the only low volume, high concentration delivery system available backed by peer-reviewed scientific data.
Unlike previous delivery devices adapted from pulmonary nebulizers that generate small particles targeting the lungs, the NasoNeb System delivers large particles that are readily filtered by the nose to ensure a large percentage of medication is delivered to the target organ and that no drug is delivered to the lungs. These particles are delivered via a positive pressure airstream that coats the whole sino-nasal cavity with the medication. 1, 2
People who may benefit from pharmaceutical therapy delivered by the NasoNeb Nasal Nebulizer include but are not limited to the following:
Post-operative sinus surgery patients with recurrent nasal polyps
Post-sinus surgery patients with chronic nasal crusting and infection
Patients with infections who are not candidates for sinus surgery
Patients with anosmia and other rhinologic conditions
Patients suffering from recalcitrant allergic rhinitis
The NasoNeb Nasal Nebulizer is the only system backed by a peer-reviewed article showing enhanced, high concentration deposition throughout the nasal and paranasal sinus cavities.
You have a choice in drug delivery systems; choose the only system that is backed by peer-reviewed science.
1 Manes RP, Tong L, Batra PS. – Prospective evaluation of aerosol delivery by a powered nasal nebulizer in the cadaver model – Int Forum Allergy Rhinol, 2011; 1:366 – 337
2 Yuri M. Gelfand, MD; Samer Fakhri, MD; Amber Luong, MD, PhD; Seth J. Isaacs, MD & Martin J. Citardi, MD: – A Comparative Study of the Distribution of Normal Saline Delivered by Large Particle Nebulizer vs. Large Volume/Low Pressure Squeeze Bottle – 56th Annual Meeting of the American Rhinologic Society, September 25, 2010, page 38